The project procedure with Assentoft Aqua
Assentoft Aqua designs and supplies innovative and cost-effective RAS systems for sustainable landbased fish farming
A Recirculating Aquaculture System (RAS), is a low-impact aquaculture farming method, which has the potential to meet the world's growing need for protein – but with a minimal impact on the environment. Our systems are designed by in-house leading experts, and our technology is state of the art for fish production at the highest level of cost-efficiency.
How Assentoft Aqua work and what we can supply:
It starts with a time and activity plan: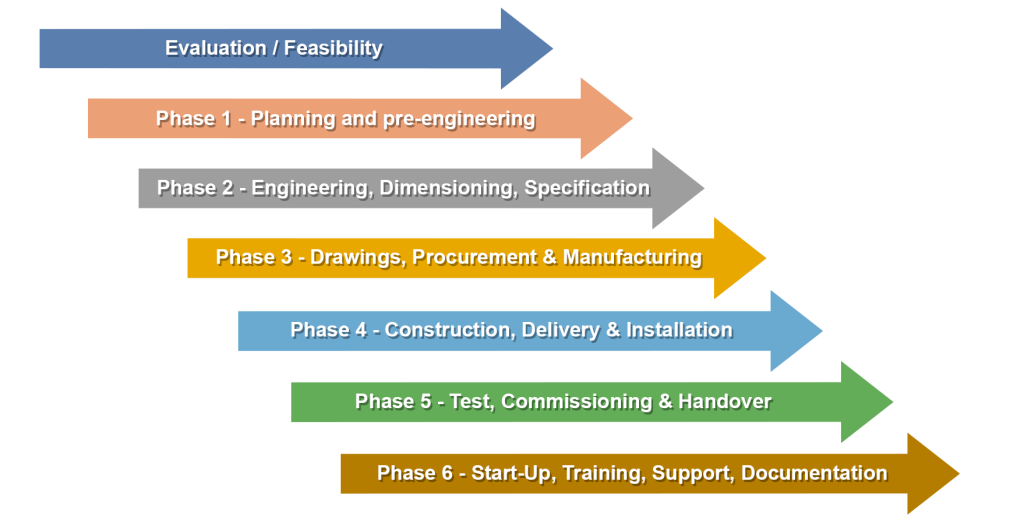 Intro
Evaluation / Feasibility

Assentoft Aqua assists in project evaluation and making a project feasibility studdies that gives the customers a possiblity to make a qualified desition about the project. Go or No go to the project where relevant parameteres are taken into consideration: site, water quality, power etc. Assentoft Aqua has templates for Capex, Opex, profit and loss calculations as well as time and activity templates that is included in this process.

Regarding financing we can help by establishing contact to danish state supported institutions as the Danish Eksport Credit fund (EKF) and Investemnt Fund for Developing countries (IFU).
---
Phase 1
Planning and pre-engineering

Assentoft Aqua assists in the pre-engineering phase by making the initial production plans for the plant based on the farmed fish species' growth chart. And from the productions plan configur the first 2D layout sketch for the plant. In this phase we will decide what components will be included in the plant and what input is needed for appling for permits and licences.
After phase 1 the customer will be able to comment/accept the first 2D layout.
---
Phase 2
Engineering, Dimensioning, Specification

Assentoft Aqua assists in making a detailed Capital expenditure (CAPEX) list where alle components in the fish farm is listed and priced. Our employees have many years of experience in the fish farming industry therefore we know which component have a long life time and works in fish plant and can run efficiently for manny years with a high producivity.
After phase 2 Assentoft Aqua can make a quotation for the plant.
---
Phase 3
Drawings, Procurement & Manufacturing

Assentoft Aqua can assist in making detailed 3D drawings of the inteire fish production plant in 3D including installation drawings. In this phase we also can make presentation of the first building design for local constructors as well as other parts of the project. We normally work in Inventor but can also interact with Revit.
With our high knowledge to supplyers in the industry we have an advantage in procurement of components for the plants.
In phase 3 there are a lot of interaction between the customer and Assentoft Aqua in designing and approwing all the different parts of the fish farm.
---
Phase 4
Construction, Delivery & Installation

In the construction phase it is important to have a good coordination between all the different supplyers for the fish farm.
---
Phase 5
Test, Commissioning & Handover

---
Phase 6
Start-Up, Training, Support, Documentation